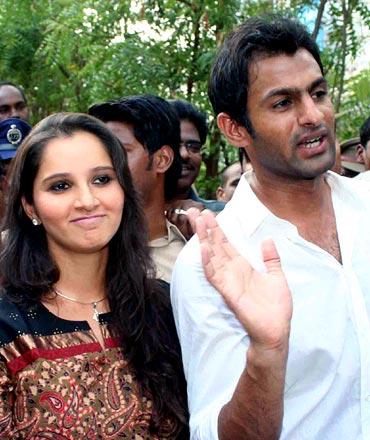 I am sure you do not need to hear from me all the crazy media blabber about who Sania will play tennis for (is she even playing any tennis anymore?), who is a traitor, Shoaib's interesting first marriage, did it happen, press conference, denials, then finally a 20 crore divorce settlement! BUT now the comedy circus has begun and we could all use some laughs.
Some funny things heard on the Blogospehere:
Sania did not find any eligible men in India, she had to go to Pakistan!
(Response) Shoaib did not find any good looking girls in Pakistan - TWICE! (though his judgment about looks could be questioned!)
On Twitter:
tantanoo :D RT @tyagiG: Shoaib married ayesha on phone. "Shoaib. Afghanistan ka capital kya hai?" "Kabul". Cant hear u "Kabul" Phir se bolo. "Kabul"
LINK to photo below
Post your favorite one-liners about this kerfuffle!