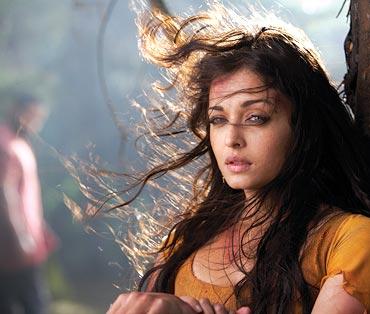 Acclaimed filmmaker Mani Ratnam's forthcoming bi-lingual film, titled Raavan in Hindi and Raavanan in Tamil, will release in June. It's also being dubbed in Telugu, as Villain.
The Hindi version stars husband-wife combo Abhishek Bachchan and Aishwarya Rai Bachchan, along with Tamil legend Vikram. Meanwhile, the Tamil and Telugu versions have been done without Abhishek.
His wife Aishwarya, however, stars in all three versions. Raavan represents her third time working with director Mani Ratnan, suggesting the filmmaker and actress share a special chemistry.
Aishwarya spoke with Patcy N, and told her why the difficult stunts, extreme shooting conditions and bi-lingual nature of Raavan/Raavanan made it the toughest film of her career. Excerpts:
Would you say your role in Raavan is your most difficult so far?
This role has certainly been the most challenging role of my life.
In the past, the situations that I have been thrown in have been amazing. I have had opportunities to work in different kinds of movies, whether it is a costume drama, historical or niche films. So I have had the opportunity to work in many different movies, and I am very thankful for that.
But my role in Raavan will particularly stand out in when I look back at all of my work. Firstly, it is made in with a very challenging backdrop. The physical situation and circumstances I was put through as an actor were tough and challenging.
My character Ragini is today's woman. She is abducted. I was put into circumstances which aren't normal. I was tied, bound and blindfolded, and I had to go through all that every day, which was not easy. And to add to it we had storm fans, mud, leeches and snakes. And for continuity I had to be drenched all the time, and with the long hair wig it is physically very trying. I would get cold and fever, but still I had to shoot.
Add to all this I had to deal with two different languages Hindi and Tamil.
How was it working with Mani?
Mani is a genius. He is an incredible director to work with, but he also makes you do quite a few scenes in one day. So, if you did one scene in Hindi and then you do the same scene in Tamil, and if you improvised anything while doing it in Tamil, even technically, then you go back and re-shoot the Hindi one again.
I would like to confess that doing Raavan brushed up my Tamil-speaking skills
Abhishek said that all of Mani Ratnam's film has a rain song...
Yes. All his films have a rain song, but in this film I am wet throughout.
And just when I had a small break and was drying out, I was put into water or a stream again! Plus sometimes it would start raining, but Mani will not stop shooting for rain. He incorporates the rain into the shot, and it becomes part of the film.
Read more from
HERE