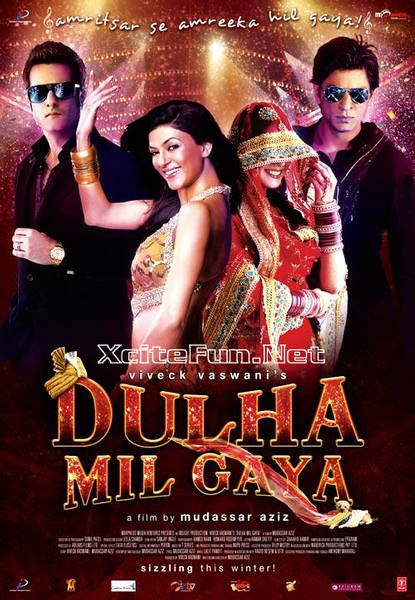 The film promised exactly nothing, for what can a film with Fardeen Khan in a lead role promise? Yes there was Sushmita, but what has she done since Main Hoon Naa that worked? She has the rare distinction of being an intelligent, talented and exceptional looking woman whose career has gone nowhere. The director, Mudassar Aziz, a debutant, seems like a kid out of high school and Vivek Vasvani, the producer, had earned some negative press for roping in Shahrukh Khan to do a cameo that got more and more extended and hyped by Vasvani (SRK's best role ever - really?). Then there was an unknown girl, Ishitta Sharma, playing the naive Samarpreet (though I could have sworn I saw a glimpse of her in Dil Dosti etc). But I decided the brave the film nevertheless.
Fardeen Khan plays the lady killer playboy Donzai (really? has any lady ever fallen for this fellow?) in Trinidad. And Shimmer (Sushmita Sen) is a super bitchy supermodel who is his friend and like him believes that love and marriage have no place in life. Shimmer's entourage is hilarious right down to her pet dog. And Shimmer herself is the life of Dulha Mil Gaya. She is what Kareena could have been in Kambakht Ishq - a diva with an attitude! Donzai is stymied by his dad's will, and has to marry the bespectacled Samarpreet in the sarson ka khet wala Punjab. Then he leaves her and runs home to his playboying! So you know that this will be a makeover to make the Dulha fall in love type film. And Samarpreet is turned into Samaira by Shimmer, aided somewhere along the way by Pawan Gandhi (SRK) as Shimmer's perpetually stand-by boyfriend. Predictably Donzai has to fall in love with Samarpreet and then realize the error of his wayward ways. Also predictably, Shimmer has to realize that her life is with her man and all's well that ends well, etc. etc.
It is not a great film, but neither is it abysmal - except when you have to stomach Fardeen as the playboy! Shimmering with the power of Sushmita's charisma, the film does manage to rise and bob about for a bit, only to come clunking down with poor dialogs and hackneyed situations. It is not enough that we should have meaningful relationships, women should be happy to be looking after their families - in 2010? Really? Even 4 years ago, if the film had released on time, the message would have been a stale one. Today it is a somewhat abysmal one. But not that different from the usual Barjatya fare, like Vivaah, that is lapped up happily. Samarpreet does get her due and the man is made to see the error of his ways, so it is not a total loss.
Acting wise, Sushmita rises to the occasion commendably and is worth watching. Fardeen - oh well. Read the rest
here