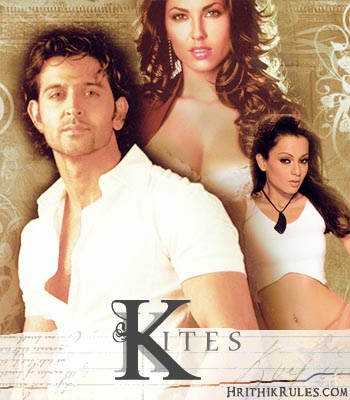 Kites is truely international
Everyone from the film industry who has seen the preview of Kites can't stop raving about it. Apparently the chemistry between Hrithik Roshan and Barbara Mori is sizzling and the action sequences are to die for. We all know there are two versions of the movie being released -- a 120-minute version in Hindi and a 90-minute version in English that is being edited by Hollywood director Brett Ranter. Kites will be premiered in New York as well as London. That truly makes the film oh so very international.
My Take - believable? They do say that Spanish will be the second most spoken language after Chinese soon!! But do we need a Telenovela actress to helm this international film?
Salman turns make-up man
Salman Khan is one generous co-star and no we're not merely talking about his love for female co-stars. He's extremely caring about his male co-stars as well. Recently while he was shooting for Dabangg in Wai, he saw Sonu Sood doing a bare body action sequence. He stopped the shoot and asked his spot boy to get bronzers from his kit. He then asked Sonu to apply it on himself as it would make the body look fuller, muscular and even protect it from the scorching heat. Sonu of course took his costar's advice and the result was awesome.
My take - as long as the bronzer matches orange pants (VEER?), it should be fine!
Rani calls the shots in Delhi
All is not well on the sets of Who Killed Jessica in Delhi. Apparently, Rani Mukerji is taking a lot of interest in the project as she knows she can't afford another flop in her kitty. Reports say she has asked for several changes and is calling the shots on the sets. Something that's not going down too well with the unit. We wonder how her co-star Vidya Balan is dealing with all this.
My take: The last time Rani suggested changes in the script we got Dil Bole Hadippa! Not to film-maker - Restrain her, please.
Kareena Kapoor's first interview - as a little girl!!
ENJOY!