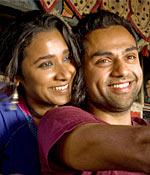 Raja Sen - 3/5
A long and winding ode
All roads lead to roam. Dev Benegal's new film, armed with a syntax-challenging title, is one of those wonderfully shot ruminations of a young clueless man trying to find himself.
He -- by which we mean both protagonist and filmmaker -- can't quite find his forte, but takes us along on a fanciful, unpredictable little diversion, a very pleasant hitchhike through bleak deserts we really ought to see more of.
The film is about slackjawed young loner Vishnu , played by Abhay Deol , an apathetic slacker who really doesn't seem to give a damn about anything. All he knows is that anything would be better than his actual stinking legacy -- he's a hair oil heir -- and escapes by way of delivering an old truck across Rajasthan .
On his way he encounters a motormouth chaiwallah determined on finding a better life, a grizzled old mechanic who knows the ways of the world and points them forward, and a comely young widow looking to forget.
In short, a perfectly family-photograph sized entourage heading to a makeshift Oz mela down the yellow brickless road.
It is, as you'd imagine, a charming film. Thanks mostly to Michel Amathieu's starkly stunning cinematography, the frames are what you take away from the film, frames of a blue, graffiti-led truck wheezing to a halt in the middle of Kutch, of a kid in a bright yellow tee-shirt and of a fat mechanic struggling to stand but never to smile.
The film is textured lovingly, the colours are beautiful and its slow, sluggish pace initially enchants as much as it eventually exasperates.
Yes, exasperates. For this film -- this pretty little waterless detour of a film -- falters because of inconsistency and the lack of a cohesive storyline.
It's neat and pretty and quite charming, but after a while shots of a truck framed by arid landscape begin to seem tiresome. There are moments of genuine surprise and cleverness, but these are often cancelled out by overdone moments, like an excessive fair that appears out of nowhere, or the unforgivably theatrical shot of filmstrips blowing in the wind.
Read more from
HERE