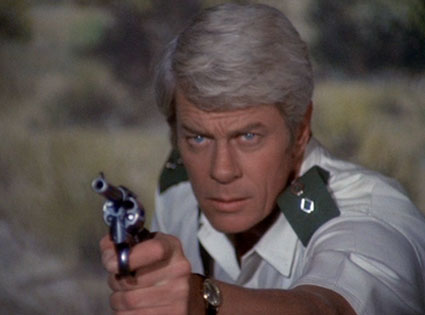 Peter Graves' career was more like three careers. At least. He was Mission: Impossible's pre-Tom Cruise leading agent, Jim Phelps. He was Airplane's Turkish prison-curious pilot, Capt. Oveur. He was the Emmy-winning host of Biography.
The silver-haired star who lent a steadiness and voice of authority to 60 years' worth of TV and film was found dead today of apparently natural causes in his Los Angeles-area home. He was 83.
For all his work—Graves' credits include the Billy Wilder WWII classic, Stalag 17, to bits on House and American Dad—the actor may be best remembered for listening very carefully to the following taped greeting: "Good morning, Mr. Phelps…"
Or, then again, maybe he's best remembered for interrogating young Joey (Rossie Harris) from the cockpit: "Have you ever been in a Turkish prison?"
And it's possible he's best remembered for helping tell the stories of dozens and dozens, both the famous and the infamous.
Read full article
HERE