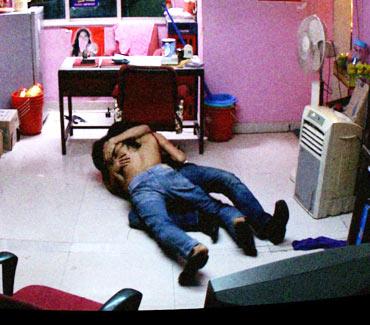 Dibakar Banerjee loves to pull the rug from under us.
He did it in Khosla Ka Ghosla and yet again in Oye Lucky Lucky Oye. And now the unconventional director is back again with the provacatively titled, Love Sex Aur Dhokha slated for March 19.
The movie deals with love, sex and betrayal in small towns in India shown through handycams, hidden cameras, CCTVs and mobile cameras. Given the bold subject matter and scintillating promos showing lots of nudity, it's not surprising that the movie is generating a lot of buzz.
From Khosla Ka Ghosla to Oye Lucky Lucky Oye and now to Love Sex Aur Dhokha. You seem to love experimenting with films. Why such a shift?
Why not? I was a different person when I made Khosla Ka Ghosla in 2006 and a different person now. You grow and change. I get bored of doing the same thing over and over again. I want to do something different every time.
But running through the different themes of my films you will find a common element. This film is about two things: One, the line between what is private and public. There is so much happening around us today that makes me feel that the line between private and public is very blurred.
I ask myself, what is it that makes us consume these things about someone else's life without knowing that person. This thought intrigues me.
Secondly, how the presence of a camera -- a digital handycam in this case -- changes things. People say that a camera records the truth. But I think a camera changes the truth. I believe that the presence of a camera actually changes the events in a person's life.
These two things are the reason why I am making Love Sex Aur Dhokha.
Read more from
HERE