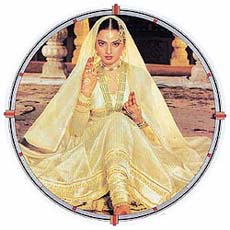 Call it perfect timing. On March 8, International Women's Day, at the Oscars Sandra Bullock was awarded the best actor for her performance in The Blind Side and Kathryn Bigelow at 58 years of age became the first woman director to win for The Hurt Locker.
Earlier, Hillary Swank for (Million Dollar Baby) at 35 years, Reese Witherspoon for (Walk The Line) at 33 years and Kate Winslet for (The Reader) at 35 years of age were awarded Oscars for best actor category. Age is not a dirty word in Hollywood. Contrast this with the Hindi film industry where the female actors have to get married or plan alternative careers after they hit their late 20s. Otherwise why do you think actors like Sridevi, Madhuri Dixit-Nene, Rani Mukerji, Preity Zinta, Tabu, Shilpa Shetty with the exception of Kajol, have either settled for marital bliss or delved into alternative careers.
Actor Urmila Matondkar who shifted base to Panchgani says, "Getting good scripts everyday isn't possible. Honestly, I have reached that point in my life where I don't want to get out of my house unless it's worth it." Shilpa Shetty Kundra who is busy handling her IPL team at the moment says, "There came a time when the scripts offered to me were not only foolish but completely impractical. There was no other choice but to move on." Actor Shefali Shah had to act as Akshay Kumar's mother in a film. Winning a National Award last year in the supporting actor category for The Last Lear, she says, "Everyone knows it's a male dominated industry. So you can only wait."
Says scriptwriter Kamlesh Pandey who wrote the script for Rang De Basanti, Tezaab, Dil, Beta, Chalbaaz, "With an exception of Umrao Jaan, even a talented actor like Rekha gets wasted here. She had great potential but she always played second fiddle to male actors. Vidya Balan, Kareena Kapoor are talented actors but the corporate houses and producers are at the mercy of male superstars so there will be few scripts for them."
On the challenges for budget and the fact that a 45-year-old Aamir Khan plays a 23-year-old college boy in 3 Idiots and makes it a super duper success, definitely says something. Says filmmaker Madhur Bhandarkar, "It's only after my films got rave reviews and worked at the box-office, people felt that Madhur ki picture chalti hai to karte hai iske liye investment. Let's hope that the women's bill will bring in some change." Says actor Amrita Rao who is facing dearth of good scripts already, "The film industry still suffers from a conservative cobweb wherein typical mindsets will take a few generations to change." Says filmmaker Vikram Bhatt, "A lot of times I have suggested the name of an actress and the reaction has been, 'Role ke liye bahut glamourous hain boss!' Did there have to be a distinction between glamour and talent?"
Bollywood today is crying for new kind of films. Says filmmaker Kunal Kohli, whose film Fanaa got Kajol her Filmfare award after she got married, "As long as the male superstars use their star power to make the right films, we are a long away from making films
which will have women equally standing chance."
Anybody listening?
LINK