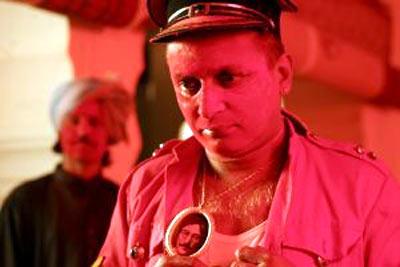 This is a long and candid interview. Piyush does not obfuscate but answers all questions directly. The site has videos and also a transcript of the interview. The one constant running through the interview is Piyush's statement that he is no genius, he does not know what his true calling is, he is constantly in turmoil over what he should be doing next. Brilliant interview of a man I consider a genius. He also does not hold out much hope of BW stopping plagiarism (a play he wrote was the basis ofr The Legend of Bhagat Singh, and he got hardly any credit!), and says he has hundreds of songs running around in his head!
Part 1
Some excerpts!
What are your views on Censorship? Many people on PFC and in general also found the line from the Ranaji song "Door des ke tower me ghus jaaye re Airplane" insensitive? Do you think audience's correct morality and sensitivity at times interferes with an artist's creativity?
That line "Door Des ke tower me ghus jaaye re airplane" was initially "America ke tower me ghus jaaye re Airplane" which was very direct and if there was someone who had a problem with that line, it was me. Barring me nobody had problems with that line. Not even Anurag. In fact no one. But, I had always thought that after all it was a tragedy, and I was so afraid that it might not become a mockery. So, till the last moment I was worried over this line and even tried to change it. And if a certain section of audience had problems with that line, I can totally understand their point of view and would not call their concerns misplaced. Because, when I write I get an idea about the things I am comfortable about and the things I am not. So, naturally, anything I am myself not comfortable with, it is not a big surprise that even my audience would not be comfortable with the same. So, I fretted over this line a lot and was even worried that there might be a problem associated with it. Now, 26/11 happened just before the release of Gulal, and had 26/11 not happened, it would not have been a big surprise had this song would have got banned, and in that case I would not have been able to do anything had they (censor board) decided to ban it. Also, I am not a fan of that kind of creativity where people are allowed to express just about anything in its name. I personally do not endorse that kind of creativity. But, this kind of line gave the song the starting it needed and unfortunately a better substitute did not come to my mind. Also, I did not want the song to become Anti American because I do not have anti-American feelings myself. So, in the end I believe censorship is important everywhere, because then there would be absolutely lack of control and that is something I am not very fond of.
The major influence for Gulal's music and lyrics has been your theater days where you needed an outlet to channelize your frustration which is quite evident in the song Aarambh hai Prachand, where there is a streak of unrestrained madness in that song. And as you say you have become quite stable and have also mellowed down a bit, so do you think would it be tough for you to recreate that magic and more importantly, would it be possible for you to create the same kind of unrestrained madness in your songs?
It won't be a problem even now. In fact, I wrote Aarambh hai Prachand for Gulal only. I can do it even now, but it would be a different from my old days where I used to compose songs spontaneously. For Black Friday's song 'Ruk ja re bandeh', these guys (Indian Ocean) were composing the song and I was sitting outside, and I wrote the lines for the song. They were so amazed as to how I was able to do it, and at that time I didn't even know that the song was extraordinary. Also, what these guys were thinking as 'extraordinary work', they were unaware that I have doing this kind of work since last 25 years. The song went on to become a huge hit and it is India Ocean's most popular song till now.
After you are done with Part 1, do check out
Part 2
Here are some excerpts:
Your play 'Gagan Damam Bajyo' on which the movie 'The Legend of Bhagat Singh' was made for which you had also written the dialogues. There was a lot of controversy regarding the issue of credits. Also, recently there was a row between Chetan Bhagat and Vidhu Vinod Chopra. So, what do you make out of this recent controversy when you juxtapose it with your situation? Why does it happen like that in Bollywood?
I had written the complete screenplay for the movie and I wasn't credited for that. Yes, I was credited for the dialogues, but they could have at least shared the credit of screenplay, but that is an old thing and I don't think much about it now. I have read that novel of Chetan Bhagat, and they (Vidhu Vinod Chopra and co.) could have given the credit for story had they wanted to, but not the entire screenplay, in my opinion. These guys have really worked hard over the screenplay and I personally don't think the credit for screenplay should have been given to Chetan Bhagat. But, things of these sorts are not uncommon in Bollywood, I am not talking about 3 Idiots here specifically, but things of these sorts are very common here. People tamper with your scripts a lot and you can't say anything. Moreover, there is no law and copyright actions to protect the writers, however, these days there are some work going on with respect to the copyright laws. Moreover, here people are not even concerned about these issues and they are not even bothered about what kind of movies you are going to make. For instance, nobody cares if you are making a movie on Bhagat Singh or not. Who is Bhagat Singh? All people care about is money. They made a movie on Bhagat Singh because prior to that Gadar was a big hit. Had Gadar would not have been a hit; people would not have bothered about it at all. That play (on which the movie 'Legend of Bhagat Singh' was made) is still with me even now and many major scenes were taken from the play itself in a completely unaltered form. So, here it is not a big thing to steal someone else's idea or for that matter even the entire story. Plagiarism is something that will stay in Bollywood, flinching people's credit would continue. And after a couple of jolts people learn their lessons the hard way as to how go about in protecting their works, for instance, getting educated on the importance of getting one's work registered and how can one be strict and attentive so that no one takes away the credit.
We have been seeing of late, that there has been increase in mainstream convention defying movies, and therefore a term 'New Wave Bollywood' has been coined and has been used often recently. Do you think this trend is here to stay or will it fade away like the movement of 70's?
The movement of 70's and 80's was more concerned with movies of Manmohan Desai where Amitabh Bachann used to rule the roost. That phase never came to stay. Before that there was a nice phase for cinema, but cinema had been distorted to a great extent in 70's and 80's…
(Interrupting) Actually I am talking about the cinema of 70's and 80's spearheaded by directors like Govind Nihlani and Shyam Benegal where they were making different kinds of movies…
What different kind of movies were they making? Nobody used to come and see those movies. It was that phase whose permanence was not even justified. I am not a big fan of that phase. Although there were people like Saaed Akhtar Mirza who used to make some quality movies, and right now we have people like Vishal, Anurag, and even his assistant, Raj Kumar Gupta, there is Dibakar, and Imitiaz Ali who is although making commercial movies but at least there is something worth watching in his movies. These guys are making quality cinema and I am very hopeful that this phase is here to stay. Most importantly, these guys are original, although even Ketan and co. were original but I do not know what happened to them with time. Dibakar has made a movie called LSD in which there are no stars, in fact why a star, there is not even a single guy whom you can recognize. But, let me tell you honestly cinema is not the major thing in my life. There is something else that is yet to come in my life, I don't know what, but I have been made for something else too. And even now there is that same confusion in me; I am still a bit unstable. The cinema is there all right, but there is something else. I don't' know what that is. I am confused.