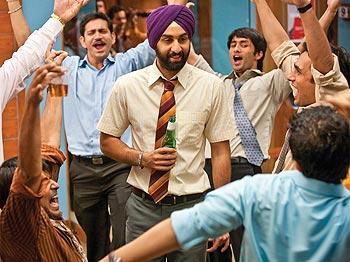 Chak De! India team Shimit Amin, director, and Jaideep Sahni, writer, are back with their new film, the curiously titled Rocket Singh Salesman Of The Year.
Starring Ranbir Kapoor and newcomer Shazahn Padamsee, the film is set for release on December 11.
Shimit tells Patcy N what it's all about.
Why was it necessary for Ranbir's character to be a sardar?
No, it was not. But this is how the character first came to me when I was thinking of the story. There is no reason why every protagonist in every Hindi film has to look like a hero.
Why is there no buzz about the film even though it is a Yash Raj project. Why is the marketing and publicity of the film so low-key?
Chak De did not have any buzz either. In fact, I am experiencing a sense of deja vu as people asked the same thing -- that why we weren't promoting Chak De when it had Shah Rukh Khan.
Why a film on the life of a salesman? What aspect of his life does the film stress on?
We have always made films about college life but never about life after college. This film is about life after college. When you are in college, you are always wondering what your office, colleagues or boss would be like.
We just found this phase very fascinating as one gets to discover a whole new world, and that is why we thought of making a film which explores this new world.
What made you select Ranbir for the film?
Ranbir was our first choice though we thought of him only after the script was ready.
It is actually a process where you think of everyone to make this film work. We wanted a young actor to play the part of a fresh graduate, and since only a handful of people in our industry fit in that group, we thought of Ranbir.
Plus, we wanted a person who could understand this kind of character better.
Read more from
HERE