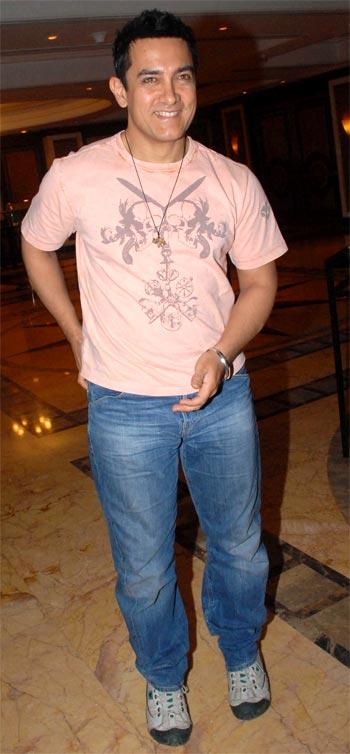 Aamir Khan employs a different marketing strategy for each of his films, and they never fail to work.
To promote this Friday's release 3 Idiots, Aamir 'disappeared' for a couple of days and traveled all over India in various disguises.
Three days before the film's release, Aamir made his appearance again, and spoke at length about his memorable experiences and India tour. Patcy N took notes:
Whose idea was this 'disappearing act'?
Mine. But it was implemented by many people. They had a code name for me called Phantom and the operation was called Operation Spiderman. We started preparing for it four months in advance.
How was your journey?
It was very exciting. I had an amazing experience in every state -- from Uttar Pradesh, Gujarat, Rajasthan, Punjab, Madhya Pradesh and Tamil Nadu. I met many people and learnt about their problems, aspirations and day-to-day issues.
This game had different layers. Firstly, it was a marketing strategy for 3 Idiots, as it is connected to the story. In the film, my character Rancho disappears and his friends have to search for him. So we thought we should market the film in such a way that I go missing and my audience goes searching for me. Wherever I went, I made friends and gifted them gold rings. I have invited them to the premiere of 3 Idiots.
Secondly, it was only a marketing strategy. I wanted to connect with common people. Usually, when I visit the different parts of India, people know me and treat me like an actor. But here, nobody recognised me. People treated me like a common man and that was a new experience for me.
The third layer of this trip was that I wanted to throw light on certain issues in the country. I went to Chanderi in Madhya Pradesh, a place where weavers live. Two years ago, I heard it was a dying profession and that they were running into losses. I wanted to highlight their problems and request people to wear hand-woven clothes as much as possible.
Likewise, I wanted to highlight the problem of education. So I went to Gujarat where the education system is good. There is free education in small schools up to Standard Seven.
How much of this will help the film?
I don't know that. But I liked the idea and its various layers.
Read more from
HERE