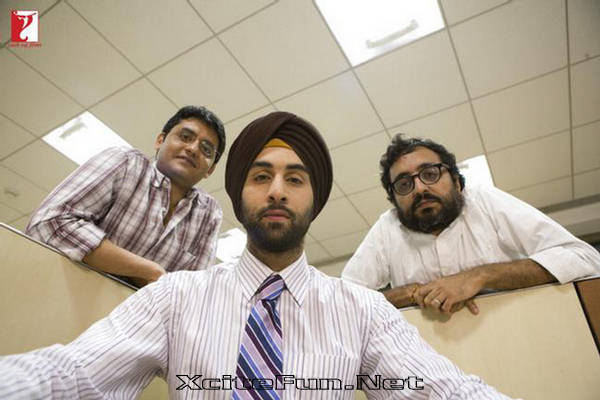 Who is Shimit Amin? The one who directed Ab Tak Chhappan or the one who directed Chak De! India and Rocket Singh. After watching Rocket Singh, I began to think is Ab Tak Chhappan more of a RGV Factory product than a Shimit Amin film? Is Chak De! India and Rocket Singh more of Jaideep Sahni films than a Shimit Amin film? Does Shimit Amin adapt himself to the company he works for? When he was associated with RGV factory he gave Ab Tak Chhappan that always looked like a factory product. When he moves out and teams up with Jaideep Sahni, his style of making film completely changes. I am not blaming Shimit Amin for making himself look adapted to the company he works for, I am just trying to figure out how much is Shimit Amin, the director, involved in making films? I wouldn't call Chak De! India or Rocket Singh as regular Yash Raj films but yes, they have Jaideep Sahni written all over them. And I appreciate Shimit Amin not taking the credit for the film alone. Instead he has made sure that Rocket Singh is as much his film as it is of Jaideep Sahni. The first stills that came out of Rocket Singh had Ranbir Kapoor, Shimit Amin and Jaideep Sahni in it which is quite surprising. That itself showed Shimit Amin respects Jaideep Sahni for his contribution to the film. I haven't seen such immense respect given to a writer before in Indian Cinema. Gulzar and Anurag Kashyap have got recognition for their writing too but then they probably got it once they entered the field of direction. Jaideep Sahni on the other hand is getting himself recognized only because of his writing skills and capabilities. We never heard the name of Shimit Amin alone whenever there was talk about Rocket Singh. We always heard Rocket Singh is from the makers of Chak De! India or Jaideep-Shimit duo are back.

Rocket Singh, one of the awaited films of the year, especially because of the fact that it is from the makers of Chak De! India, is about a fresh graduate Harpreet Singh played by Ranbir Kapoor, who trying to adapt himself to the job of a salesman. It isn't a stylish film that shows the extraordinary capabilities of Harpreet Singh as a salesman, nor does it glorify the job of a salesman. Harpreet Singh is very much like a common man working in an office, and about a man whose ethics do not synchronize with the company he is working for.

The story of the film can well be compared to the silent era comedies especially the ones of Charlie Chaplin where he played the honest person forced to take the wrong way due to the situations in his life. And Rocket Singh references it very well with a transition effect which was used in the silent films. We can see the reference in the image below.




The script written by Jaideep Sahni is really the true winner of the film. The subtleness and the realism he gives to his characters and situations should be applauded. The atmosphere shown in Rocket Singh is very much real and how well Jaideep – Shimit have shown the atmosphere in different places (HOME, PARTY, OFFICE) and distinguished them is commendable. The best part of Jaideep's writing is he is very honest to his work and no doubt in the fact that Shimit Amin does complete justice to Jaideep's script. Through his work, one can see the effort he makes to make a scene look very much real. The characters in the film do small things that work like wonders in giving the film look real. Like right at the start, we see Ranbir Kapoor winking to his God and then apologizing right after that and then Harpreet Singh (Ranbir Kapoor) giving body massage to his father. Jaideep – Shimit establish the character so well in the film through their mannerism and dialogs they speak. Characters in the film speaking regional lines like "Nakko Re" for "No", Harpreet Singh's(Ranbir Kapoor) father calling him 'Sardar' in a informal way, speaking regional language while at home, etc makes the film look real.


Read more from
HERE